FOR IMMEDIATE RELEASE | September 26, 2017
Kevin Nix | (202) 431 5796
Even with Graham-Cassidy dead, Texas health care remains in crisis
HOUSTON – Republican Senators today indicated they are not moving forward with a vote on the Graham-Cassidy bill, which would have repealed and replaced the Affordable Care Act. Legacy Community Health issued the following statement from CEO Katy Caldwell.
"Texas is an economic powerhouse, leading the way in entrepreneurship and innovation. Yet our health care infrastructure in both rural and urban parts of the state is weak, almost ignored by policymakers. It's no wonder Texas leads the nation in the number of uninsured. The Graham-Cassidy bill would have made this bad situation worse by gutting Medicaid and by knocking millions off their insurance. The bill's death is a good thing. But the problems of sky-high costs and lack of insurance persist. The next step is for both parties in Congress to come together around health care legislation. We need a real win. While the squabbling and partisanship go off the rails in Washington, Texans are cutting back on the essentials to pay for medical care."
Last week, the Texas Medical Center released a survey that found that more than 60% of Texans pay more out-of-pocket for health care than two years ago – more than any other state. More than half said they are cutting down on expenses, like on food and clothing, to pay for health care.
Texas is home to 4.5 million uninsured, the highest in the country.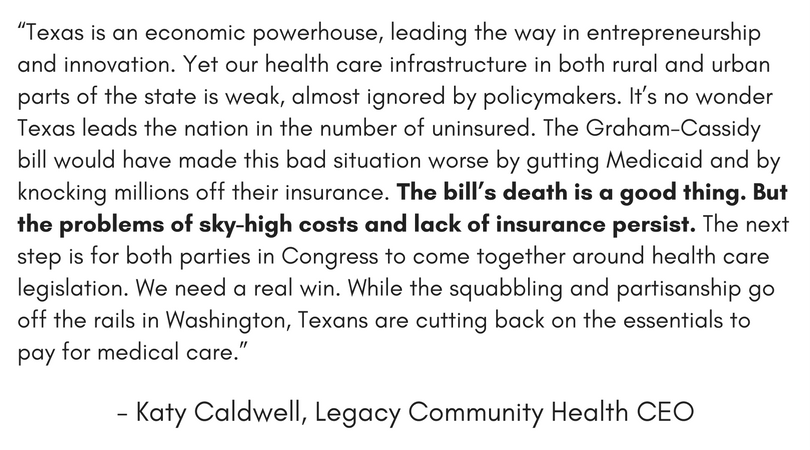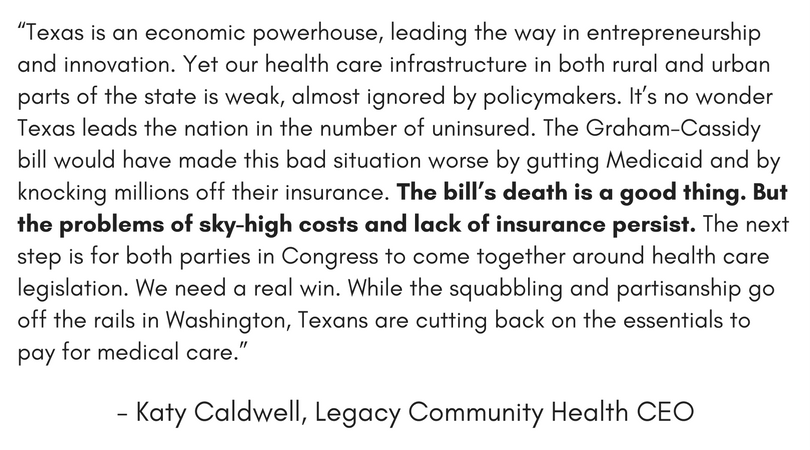 Legacy Community Health, a not-for-profit Federally Qualified Health Center (FQHC), provides comprehensive care to over 150,000 community members, regardless of their ability to pay, at 29 clinics in Southeast Texas. The agency provides adult primary care, HIV/AIDS care, pediatrics, OB/GYN and maternity, dental, vision and behavioral health.
###