Legacy first opened its doors to the LGBTQ+ community in 1978 as the Montrose Clinic, whose focus was helping HIV-positive Houstonians. In the three decades that followed, we have expanded our scope of services to become a nationally recognized leader in HIV/AIDS primary care, prevention, and treatment. And as we grew larger, our dedication to serving LGBTQ+ patients with dignity, respect, and compassion grew stronger.
Legacy's medical and behavioral specialists, staff, and consultants recognize that LGBTQ+ patients often have unique needs that require equally unique responses. Given our roots, we have the range of experience and expertise to bring health, hope, and peace of mind to our LGBTQ+ patients, regardless of what issues they may be facing.
We offer primary care for all people of all genders. Our comprehensive services include:
HIV/STD screening and prevention – available to anyone who asks, with a choice between confidential or anonymous testing
HIV/AIDS treatment – primary health care, as well as vision, case management, medication adherence counseling, educational workshops, financial assistance, and wellness services
Transgender specialty care – including individual and family therapy; psychiatric evaluation and consultation prior to and during hormone replacement therapy or gender affirmation surgery; and psychiatric care for gender non-conforming patients – Click here for more information
Vision tests – for HIV patients at our Frost Eye Clinic, which is supported by the Ryan White Care Act
Social services – assisting transgender patients, including resource linkage, for areas such as school advocacy, housing, financial, employment, and legal needs
Body Positive Wellness Center – working with patients on the best methods for working out and building muscles
We provide this care to anyone in the community regardless of their ability to pay and offer it in a safe, judgment-free, patient-centered environment that is designed to reduce apprehension, enhance comfort, and promote personalized attention.
Our LGBTQ+ services are just part of Legacy's commitment to bring comprehensive wrap-around care to all of our neighbors and to open our doors, our arms, and our hearts to all the patients we serve. And we do that by connecting our communities to health every day, in every way.
If you have any questions about our LGBTQ+ services or if you are interested in learning more about these services, please reach out to our Public Health team at (832) 548 5221.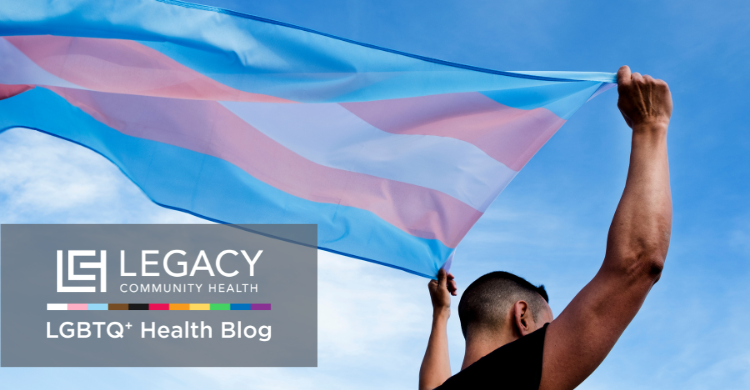 Monday, November 13 through Sunday, November 19 is Transgender Awareness Week, followed by Transgender Day of Remembrance on November 20. During this ...
Read More