Pediatric Telehealth & Telemedicine
Legacy understands you may not be able to always leave home. This does not mean that you need to miss important checkups and appointments for your children! Legacy is offering pediatric visits with a therapist or doctor via a smartphone or computer, including sick visits and behavioral health counseling. 
Important:
You should set up for your appointment in a space that is quiet, has good lighting and an adequate internet signal.
Please do not drive during your appointment.
We recommend joining your online appointment 10 minutes early. If a patient has not joined within 10 minutes before or after the scheduled time, the appointment will be rescheduled.
Technical support is available at (713) 814 3400 between 8 am and 5 pm.
The Legacy provider can choose to reschedule for an in-person visit if the patient incorrectly schedules a telemedicine appointment. For a list of examples of what can and can't be addressed during a telemedicine visit, please see the following:
Legacy can accomodate the following in a telemedicine visit
Video visits for complaints that can be addressed via telemed: 
Cold / cough / URI without shortness of breath
Flu symptoms without shortness of breath
COVID symptoms without shortness of breath
Sore throat
UTI symptoms without vaginal discharge (adult females only)
Behavioral Risk Assessment
Mild Anxiety/ Depression
Mild abdominal pain 
GERD-reflux or heartburn for anyone under 40 years of age
OB patients with cold symptoms, nausea / vomiting, generalized itching only (no vaginal issues)
Nausea / vomiting / diarrhea
Rashes
Hives
STD exposure
STD screening
Pink eye / styes only (other vision complaints need in-person visit)
Cold sores
Headaches (If not severe or with emergency symptoms)
Limited medication refills for some medications (at a Legacy provider's discretion & not for a controlled substance. May be referred to your primary care provider)
Acute back pain (if not severe or more than 60 years old)
Constipation
Exclusions to telemedicine / should see primary care provider in person:
Patients who refuse telemed visits
Patients already seen via telemed but not are improving, should see their primary care provider
Patients already seen at a Legacy clinic the same day as a telemedicine appointment for same complaint cannot book more than 1 visit on the same day for same issue
Patients with any shortness of breath or other emergency symptoms (severe headache, chest pain, loss of consciousness, heavy bleeding, stroke symptoms, etc.)
UTI symptoms, pediatric or male 
Complicated behavioral health (not improving, bipolar, schizophrenia, etc.)  need to see a behavioral health provider
Abdominal pain that is severe depends on triage and may be referred to ER
OB patients or vaginal DC or other vaginal complaints
OB patients with emergency symptoms
Ear complaints
Dizziness, mental status changes, insomnia
Pain- management or conditions that cause new / severe pain, chronic pain
Medication refills (controlled substances, HIV meds, hormones or treating excluded conditions)
Pediatric fever under 4 years of age
Any pediatric patient under 12 months
Trauma / injury may be referred to ER
ADHD
Vaginal bleeding / discharge
Erectile dysfunction
Genital lesions or breast pain
Pediatric asthma
Other eye issues than pink eye or styes, especially with vision changes-may need PCP or eye doctor.
Pediatric Sick Visits Without Leaving Home!
Appointments Available and New Patients Welcome!
Staying home does not mean you need to miss out on Legacy's high quality care for your children. Our Pediatricians are available through a smartphone or computer!
Sick visits from your home, no traveling to the clinic
The same expert health care providers you see in our clinics
Seeing existing and new patients from newborn to young adult, including our School-Based Health Care patients
Appointments available in English and Spanish
Pediatric Behavioral Health – Counseling for Children Right from Home!
We know this is a difficult time and even more so for children. That's why our highly caring pediatric therapists are making counseling available right from your home! All you need is a smartphone or computer. Telehealth brings our expert care to your home. No need to travel!
Licensed professional counselors
Experts in treating anxiety, depression, behavioral problems, and more
Treating children of all ages
English and Spanish-language counseling
No need to travel, receive care via phone or computer
Appointments Available and New Patients Welcome! Legacy accepts most HMOs/PPOs, Medicaid and CHIP. Legacy also utilizes a sliding scale fee to lower the cost of services for uninsured patients.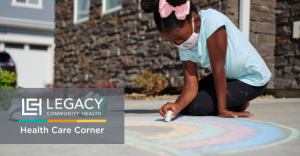 What kinds of outdoor activities are there, and how do we combat allergies while we ...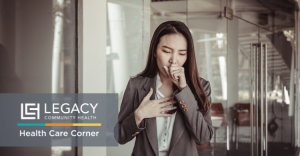 by Ashley Guidry, Communications Associate Coughs, colds, flu, oh my! Keep your family healthy this ...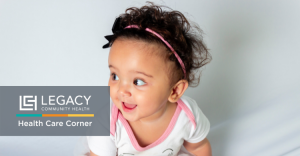 Breastfeeding, or chestfeeding, for any amount of time has significant health benefits for baby and ...