Please check back soon for our video content. We're currently conducting some maintenance on this gallery.
Please check back soon for our video content. We're currently conducting some maintenance on this gallery.
Schedule An Appointment
Pediatric Telehealth (Online Appointments)
Pediatric Telehealth
School-Based Health Care
TeenWell™ by Legacy
Pharmacy
TeenWell™ by Legacy
Pharmacy
Our services include:
Well-child visits – preventative care, vaccines, lab work, and anything else that can keep kids healthy
Sick-child visits – diagnosis and treatment related to common childhood conditions; immediate appointments available at most locations
Sports physicals – making sure your kids are ready to take the field or court
Adolescent care – specialists in young patients between the ages of 12 and 24, with capabilities that include drug, contraceptive, and mental health counseling
Whole patient services – lactation consulting, diet and nutrition, parenting classes, and more
Walk-in Clinic – Legacy Southwest Pediatric Walk-in Clinic is open Sunday through Saturday, 8:00 am – 8:00 pm – 6441 High Star, Houston, TX 

77074
CLICK FOR UPDATED WALK-IN POLICY 
Allergies and allergic reactions
Asthma
Bronchitis and upper respiratory infections
Colds, cough and flu
Ear, eyes and sinus infections
Fevers
Minor wound care
Muscle pain, sprains and strains
Nausea, vomiting and diarrhea
Newborn concerns
Skin infections and rashes
Sore throats
Urinary tract infections
Pediatric services are offered at:
Legacy Southwest Clinic Notice – Vaccines are available by pre-scheduled appointment and limited walk-in spots.
Please check with the Front Desk for availability or call (832) 548 5000 to schedule an appointment.
Legacy Pediatrics wants all families to know that we are here for you, to answer your questions and provide expert care for your children – in person and virtually. We have appointments available at 14 clinics across Greater Houston, Deer Park, Baytown and Beaumont.
Legacy Telemedicine and Telehealth allow for pediatric virtual visits with the same doctors and therapists your child sees in our clinics, from the comfort of your home via a smartphone or computer. Visit our Telehealth and Telemedicine Page to learn how to schedule a pediatric sick visit or behavioral health counseling session.
Our philosophy is simple: We think children in our community should be connected to the best possible care, regardless of ability to pay, and that parents should have the confidence and assurance of knowing their child's care is as exceptional as it is personal.
Our Pediatric Services are just part of Legacy's commitment to bring comprehensive wrap-around services to all of our neighbors and to open our doors, our arms, and our hearts to everyone in the community.
In addition to all of this, Legacy also offers school-based health services that bring our same level of care to a variety of KIPP, YES Prep and Galena Park ISD campuses, making it easier for students and their siblings to get what they need – and more convenient for parents who can't otherwise get to the clinic.
Patients always see the same care team, so when you come in, you can be confident of being served by professionals who know you, your child, and your individual concerns. And since we offer obstetrics services as well, you and your child can enjoy a continuum of care that starts from the beginning of pregnancy.
In other words, at Legacy, you're not a number – and you're more than just a patient.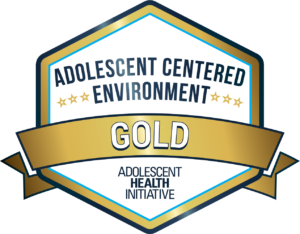 Gold Certification: Adolescent-Centered Environment
Legacy Community Health – Montrose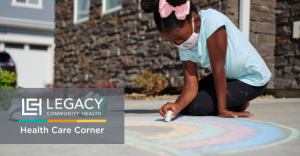 What kinds of outdoor activities are there, and how do we combat allergies while we ...
When your child is sick, it's our goal, and priority, to provide them care as soon as possible. But this year we have seen a huge increase in the number of Walk-In Clinic patients. To better serve everyone and better manage our wait times and patient expectations, we are updating our walk-in policy, effective November 1, 2022.
Walk-in visits are now "Easy as 1, 2, 3"
Visit the Walk-In Clinic
Check-in at the Front Desk to receive a same-day appointment time
Return at scheduled appointment time or wait in-clinic for scheduled appointment
*Walk-in visits can only be scheduled with the Front Desk at the clinic. These visits cannot be scheduled online or by phone. If all available same-day appointments are filled, patients will be given a referral to another provider.