FOR IMMEDIATE RELEASE
Contact: Carolina Boyd, Communications Associate
Office: 832-548-5112
Email Carolina 
Legacy Physicians Named to 2019 Top Doctor Lists
HOUSTON – (Aug. 1, 2019) Legacy Community Health congratulates four of its physicians for recognition for their work with patients across the Houston area. Dr. Pedro Bustamante IV, Dr. Chad Lemaire and Dr. Charu Sawhney have been named to Houstonia Magazine's Top Doctors 2019 list. Dr. Shetal Amin was named to Texas Monthly's Super Doctors' Texas 2019, Rising Stars Edition.
Houstonia Magazine compiles a list of the best physicians in Houston every year. They reach out to over 15,000 board-certified doctors and ask them who they would recommend for their family members.
Dr. Bustamante joined Legacy's Behavioral Health team as a psychiatrist in 2012. This is his second time being named to Houstonia Magazine's Top Doctors list. He provides care to sexual minority and gender diverse youth at Legacy's Montrose clinic. He is a member of the American Academy of Child and Adolescent Psychiatry and the Association of Gay and Lesbian Psychiatrists. Dr. Bustamante graduated magna cum laude from the University of Texas Pan-American and received his Doctor of Medicine from Baylor College of Medicine.
This year marks the fourth year Lemaire has been selected to the list. Dr. Lemaire served as the Medical Director of Legacy Behavioral Health for four years and Associate Medical Director of Behavioral Health for three years before that. He was recently named, Vice-President of Integrated Behavioral Health and Special Initiatives at Legacy. Dr. Lemaire believes the shared human experience and being deeply connected are vital in his work with patients. He is the former president of the Houston Psychiatric Society and serves on the board of Doctors for Change, an advocacy and education non-profit organization.
Dr. Sawhney is an adult primary care provider at Legacy's Fifth Ward clinic. She came to Legacy in 2015 and has been focused on chronic disease management and prevention ever since. She is passionate about using her abilities as a health care professional to advocate for improvements in the health care system. She also strives to provide medical care to those who could not otherwise receive it. This is the first year Dr. Sawhney has made Houstonian's Top Docs' list
Each year Texas Monthly publishes its list of Super Doctors Rising Stars edition. Medical experts around the state are asked about which doctors they would choose for their own medical care. Dr. Amin was selected as a Rising Star. It's the third time she has made the magazine's list. Dr. Amin is a psychiatrist specializing in child and adolescent behavioral health at Legacy's Mapleridge clinic. She has been with Legacy since 2013, a graduate of St. Georges University, Dr. Amin did her residency at the University of Illinois at Chicago and her fellowship at Baylor College of Medicine.
Legacy Community Health, a not-for-profit Federally Qualified Health Center (FQHC), provides comprehensive care to over 150,000 people, regardless of their ability to pay, at 36 clinics in Southeast Texas. A United Way agency, Legacy provides adult and pediatric primary care, obstetrics and gynecology, behavioral health, LGBTQ+ services, HIV/AIDS care, and dental/vision.
###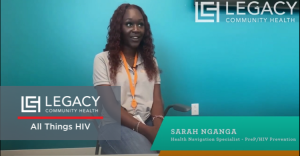 In honor of Sexual Health Awareness Month, join us as we shed light on a ...
Click now