Imagine being part of a team connecting our communities to health every day, gaining experience in the health care field, and making life-long connections. As a Legacy Community Health AmeriCorps member, you will be on the front lines, helping low-income and medically underserved people and their families get the health care services they need. 
Members serve around 35 hours a week for 3-12 months, allowing you to tailor your commitment based on your availability and personal goals.
Benefits include:
• Biweekly Living Stipend         • $6,895 Education Award
• Health Insurance            • Child Care Assistance
• Professional Development Training       • Student Loan Deferment
Here is your chance to be a part of something bigger, to make a real difference in someone else's life. Together, we can build healthier communities and create a brighter future for all.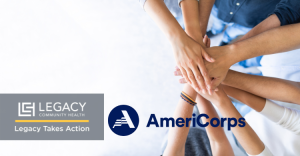 Since the 1960s, AmeriCorps has dedicated their resources to underserved communities. Once known as the ...
Read More