Both Legacy and the City of Houston are sponsoring community events this spring.
By Barrett White
Throughout February and into the springtime months, Legacy will be hosting our own community events, as will the City of Houston. With the season just a couple months ahead, so what better time to start penciling fun community events onto your calendar than now? Community events can be a thrilling way to relax with your relatives and neighbors, and to meet others in the city. With over 7 million people living in the Houston Metro Area – that's a lot of potential friends!
So, what is going on in Houston over the next few months?
In honor of American Heart Month, Legacy is hosting the BikeRx Program in collaboration with the American Heart Association and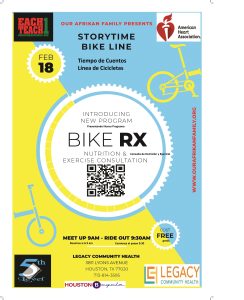 Houston BCycle. The event will be held at our Fifth Ward clinic on February 18 beginning at 9AM.
Did you know that over 30% of Houston adults have high blood pressure and nearly 40% do not have it under control? Damage to your blood vessels from high blood pressure can lead to heart attack, stroke, heart failure and other serious health issues.
By providing access to bikes through Legacy's BikeRx program, people of all ages can increase their recreation level, mobility, and improve their health.
Scan the QR on the right to register.
In addition, the City of Houston is hosting several coming events you may enjoy:
Tour de Houston
Tour de Houston is a fundraising bike ride that benefits Houston's Reforestation Program. The ride will take place on February 26. This annual event offers Houstonians and visitors a unique way to view the city with bike routes winding through Houston's historic neighborhoods, scenic districts and parks. With three ride length options, the Tour de Houston is the perfect event for leisure riders or cycling enthusiasts.
You can read more about the event here.
Family Day in the Park
Family Day in the Park is a community event coming up in April that will feature live music by J. Paul Jr. and The Zydeco Nubreeds, activities, entertainment, and refreshments. The event is set to take place at Sylvester Turner Park and shuttles will be available to get you to and from the event.
More information can be found here.
Sunday in the Park
Sunday in the Park provides Houstonians a unique opportunity to engage with others, meet new neighbors, and enjoy a neighborhood park with events throughout the year. Each location will feature a theme with music, games, dancing, and fun activities for the whole family.
You can read more about the Sunday in the Park events here. While the Spring 2023 schedule has not yet been released, dates will be posted as they become available.