Oct. 10th is World Mental Health Day, join City Hall for a live event this Tuesday in partnership with The Walk Houston.
by Ashley Guidry, Communications Associate
In March of this year, the University of Houston closed its building following the on-campus death of a student. This was the second suspected suicide at the university reflecting a similar situation a month before within the Agnes Arnold Hall building. According to Next Step Solutions, more than 1,100 college students lose their lives to suicide in the United States. Following their deaths, better mental health services and care were demanded by students on campus. In response, Agnes Arnold Hall was shut down and classes were rearranged to a different building.
As common as mental illnesses are, the stigma surrounding mental health is nothing new. Many students believe discussions on mental health are a taboo subject, leading many to suffer in silence and become isolated from their peers. This lack of speaking up about their internal struggles has led other 24,000 students to risk suicide attempts.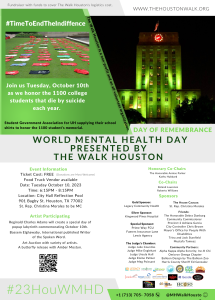 The Walk Houston is a non-profit and all-volunteer organization that hosts an annual walk for Mental Health Week. This year, in honor of those 1,100 students, the University of Houston's Student Government Association donated their school shirts for an upcoming memorial this Tuesday.
On October 10th, Houston's City Hall, located at 901 Bagby St., Houston, TX 77002, will host a memorial from 6:15 pm – 8:15 pm at the Reflection Pool where the building will be lit up in green in honor of mental illness.
This free event will include:
Live testimonials by individuals impacted by mental health.
Live performances by musicians, dancers and spoken word including internationally published poet from Canada, Dassem Elghawaby.
A live silent auction of local artists including award-winning woodworker, Bob Card and many painters.
A 'pop up' labyrinth by award-winning and visionary artist Reginald C. Adams and a dance performer with MECA.
A butterfly release with Amber Mostyn.
Food truck vendors will be available as well.
Mental illness affects more than one in five adults in the U.S. every day. Let's put our best foot forward and let individuals struggling alone know that we are here to help.
For more information visit www.TheHoustonWalk.org or scan the QR Code on the flyer above to learn more about how you can get involved.