By Barrett White
Southern HIV/AIDS Awareness Day raises awareness of the impact HIV has on people living in the Southern U.S.
Southern HIV/AIDS Awareness Day (SHAAD) is observed annually on August 20. The Southern AIDS Coalition originally initiated this observance in 2019 to bring awareness to the disproportionate impact of HIV in the South.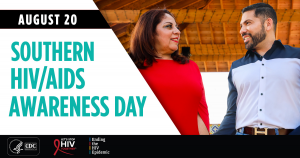 On average, the Centers for Disease Control and Prevention (CDC) estimates there are nearly 40,000 new HIV transmissions every year, with the highest rates found in the South – and of major cities in the South, Houston is a focus for new infections.
In the most recent HIV surveillance report (2019) from the Texas Department of State Health Services, Harris County has the most new HIV diagnoses, followed by Dallas County. More than 40% of all diagnoses in Harris County are in the African-American community, according to 2021 data from the Houston Health Department. More than 31,000 people in the county are living with HIV.
Miguel Jacquez is an Outreach Coordinator at Legacy, and Latinx Outreach Coordinator with the Amistades HTX Stigma Reduction program in Legacy's Public Health department.
"In our community we tend to hold back some," Jacquez says. "We often doubt ourselves based on our life experiences and the environments we are in. Latino/a/xs unconsciously hold on to these stigmas due to fear and judgment. Amistades HTX is here to open dialogue around stigma and reduce its impact in hopes that it will allow gente in our community to reach out for further health services such as behavioral health, diabetes management, HIV care services and so on."
HIV stigma can be a major barrier to accessing HIV prevention and treatment services, particularly in the South. The first step to ending the HIV epidemic is by eliminating stigma – and the first step in eliminating stigma is to talk about it.
As part of Amistades HTX's effort to promote Southern HIV/AIDS Awareness Day, Jacquez has coordinated the social media campaign "#ComoSoy", a Facebook visual campaign that aims to share a message of stigma reduction based on the life experiences of actual Amistades HTX members, which Jacquez hopes will open a dialogue on stigma reduction in the Latino/a/x community. Sharing the experiences of participants like Jogi, Jimmy, and Jose and Servando, Jacquez hopes to humanize and bring to life the efforts of Public Health and Amistades HTX, not just by sharing statistics, but by giving real testimony.
Meet Daniel "Jogi" Chavez: Jogi has been an active participant to the Amistades HTX group since the inception of the program. They were 18 when they first came to Amistades HTX as a graduating senior in 2020. Always full of life and energy, they come with questions pertaining to sexual health. By participating in Amistades HTX, they allow us to see their vulnerable side as they speak their mind, and allow for the opportunity to learn from other participants of the group. Amistades HTX hosts a closed "status neutral" group (Café Con Leche) for the participants to engage and disclose about themselves in an effort to reduce stigma.
"Putting the #ComoSoy, or "As I Am", visual campaign together has been such a wonderful opportunity to see my vision come to life, and has given me the opportunity to know individuals on a very personal level," Jacquez continues. "Watching the Amistades HTX members have fun through their photoshoots and having that one-on-one conversation – just listening to them and understanding how they have learned to overcome. The steps forward that they take to make a positive change in the world through stigma reduction is what makes me proud of this group. They are resilient."
Meet Jimmy Madrigal: Jimmy Madrigal has been a member of the Amistades HTX program since its inception. Jimmy and Amistades HTX had a productive discussion on life experiences and how they relate to stigma reduction. Sometimes, Jimmy says, we tend to think our own life experiences are "more vanilla" than others, until we get to talking with one another. Self-realization helps put things into a better perspective. Conversations open up doors to discussions that help us reduce stigma in our communities.
At the core of eliminating stigma is education. By discussing HIV openly with the community, Amistades HTX and participants in Jacquez's #ComoSoy campaign hope that the public will see that discussions about HIV shouldn't be taboo. Serodiscordant couple Jose and Servando Arrellano-Torres chatted with Jacquez about what that term means, and how it's possible with modern medication like PrEP and ART.
Meet Jose and Servando Arrellano-Torres: Jose, Servando, and Amistades HTX had a stigma reduction conversation about being in a serodiscordant relationship, or a relationship where one partner is living with HIV and the other is not. Keeping each other healthy is key; both use current medication technologies like ART and PrEP, which help Servando remain undetectable and keeps Jose from acquiring HIV.
"To me, Southern HIV/AIDS Awareness Day means that we are here in the South facing a struggle that has been going on for decades," Jacquez finishes. "This is something that needs a broad conversation with an open mind in order to fight toward ending HIV through reducing stigma on risk behaviors."
Keep your eyes on Facebook – in observance of Southern HIV/AIDS Awareness Day, Amistades HTX will be posting more stories just like Jogi's, Jimmy's, and Jose and Servando's all throughout the day on Friday, August 20.
Legacy is committed to ending the HIV epidemic. Legacy offers free HIV testing – get tested and know your status today. Everyone has an HIV status; do you know yours?