"Mental Health Mondays" is a Legacy Community Health series focused on behavioral health. Our goal is to jumpstart your week with compelling stories to inspire and move you toward a better tomorrow. If you have a mental health story you would like to see or share, email us. Check back here every Monday for a new installment of "Mental Health Mondays."
By India Ogazi
After experiencing back-to-back trauma, everyday life weighed on Debra Odom like a ton of bricks. In 2008, she was the innocent victim of a drive-by shooting that left her body riddled with four gunshot wounds. And then, not long after, her mother died from the complications of multiple strokes. The physical and emotional pain of it all became too much to bear.
"I noticed a change in me," Odom says. A once happy person, Odom became irritable and depressed and started having violent thoughts. She sought help.
No shame, no stigma
Odom admits that, at first, she felt unsure about receiving mental health care, because she didn't want to be labeled as "crazy." However, she was living in California at the time and felt mental health care was more accepted there, so she proceeded. A psychiatrist started Odom on an antidepressant medication and she improved.
"I felt so much better," she says. "It mellowed me out."
Then, in 2014, Odom moved from California to Houston and began receiving behavioral health therapy at Legacy's clinic in the Fifth Ward, where she was diagnosed with depression and post-traumatic stress disorder (PTSD).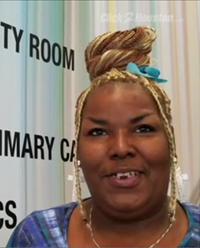 Therapy helps
Odom continued her medication regimen and found comfort with Legacy therapist Winderlyon Hebert.
According to the National Institute of Mental Health, people suffering from depression can be easily irritable, sad, feel hopeless and have a loss of interest in social activities — all symptoms which Odom showed when she began therapy at Legacy.
"Debra was tearful and had isolated herself from family and social interactions, when we first met," says Hebert. But with monthly therapy sessions, Hebert says Odom has become more socially interactive and learned how to cope with her negative emotions in a healthy way — she has found joy.
Following Hebert's advice to find positive outlets, Odom began cooking meals for the homeless with a local church. "We feed 150 to 200 people every Wednesday . . . it helps my depression to be around positive things," says Odom, through happy tears.
Good days, bad days
Odom admits that she still has bad days where she doesn't feel like getting out of bed. But thanks to her willingness to get help, stay in therapy and change her lifestyle, the bad days don't come as often as they used to. Odom offers the following advice for others suffering with depression or PTSD: Have faith, don't listen to negative thoughts and don't be afraid to seek help. Better days are sure to come.

Follow us on our social media channels to get your weekly Mental Health Mondays issue.