The Transgender Education Network of Texas is offering guidance for transgender patients during the pandemic.
By Barrett White
The Transgender Education Network of Texas (TENT) provides shelter and safety for transgender Texans every day in the form of resources, community activism, and even grassroots work in Austin, but their work is especially important during a global crisis – such as the Coronavirus/COVID-19 pandemic.
During unprecedented times like these, TENT and Legacy believe it is our duty to ensure that those among us most marginalized do not fall through the cracks. TENT has come up with a quick and easily digestible resource guide for the unique needs of our transgender siblings so that safety and health may remain paramount.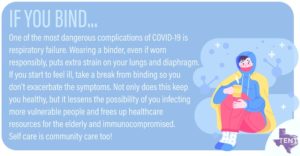 Binding
The first concern brought forward by TENT is that of binding. As the coronavirus/COVID-19 is a respiratory illness, the restriction of wearing a binder, even if worn responsibly, can exacerbate the symptoms. If you begin feeling a little under the weather, consider taking a break from binding for a little while, while your body recoups.
Living with a suppressed immune system
For individuals with a compromised immune system, such as those who are living with HIV or SCID, or those who are temporarily immunosuppressed, such as those currently undergoing chemotherapy or who recently had an organ transplant, taking special care to avoid close social interaction is crucial at this time. Social distancing remains critical.
Attending appointments while immunosuppressed
But what if you are to attend an appointment at Legacy, where there may be individuals testing for COVID-19 in the same premises? To account for this concern, Legacy is screening all patients for symptoms of COVID-19 at the door, and referring those who screen positive to a separate area from the general clinic to be further evaluated and/or tested. This is just one step Legacy is taking to ensure that all patients – immunocompromised or not – can rest assured that they are safe in our care. For more information on our COVID-19 screening and testing processes, please see our COVID-19 landing page.
The clinic experience as a safe space
Once inside the clinic, know that you are in a safe place. As part of the Legacy patient intake process, we ask you for the name that you go by – you will not be deadnamed in our facility. While anxiety surrounding the clinic experience is widespread in the transgender community (which is a valid anxiety, as we have highlighted before), Legacy works to make sure that all patients who walk through our doors are shown dignity and respect.
Lastly, always remember to be honest about medications, hormones, or any other drugs you are currently taking. This will help your physician to best serve you.
The pharmacy as an essential service
With much of the world on some form of lockdown or another during this pandemic, we remind you that essential services are still open and operational in Houston. This includes Legacy pharmacies.
Please do not feel as though you must ration medications or reuse needles for HRT or other injected medications. Legacy pharmacies are open and fully operational. At this time, patients are able to see our pharmacists in person and utilize curbside pick-up. We are also excited to announce that Legacy now offers FREE medication delivery, learn more here.
Final thoughts
As strange, uncomfortable, and new as this situation may feel, Legacy's staff is working hard to keep things running smoothly and as closely to normal as possible. This includes our wrap-around services for the LGBTQ+ community – after all, Legacy grew up during the height of one pandemic. We'll be here to walk alongside you through this one, too.
If you identify as transgender and are in crisis, please see TENT's resource page for helpful information.