Legacy Community Health thanks OutSmart Magazine for our 2019 Gayest and Greatest Awards for Best Pharmacy and Best Community Health Services Provider.
By Barrett White
The staff at Legacy Community Health could not be more excited over OutSmart Magazine's acknowledgement of our pharmacy. To celebrate our Gayest and Greatest Award, we would like to highlight one of the best tools we've got for ending the HIV epidemic, which is available right here in our (award-winning!) pharmacy: pre-exposure prophylaxis, or PrEP.
Our PrEP Rx pilot program is taking steps to ensure that the once-daily pill that prevents HIV more quickly gets into the hands of the patients who need it. Our Montrose pharmacy now serves as the nerve center for the prescription medication that reduces the risk of HIV infection by about 92% when taken as directed.
"One of the most successful ways to stop new HIV infections in Houston is to prevent them in the first place," said Legacy senior vice president of pharmacy, Karen Gurwitch. "That's why we have created PrEP Rx to fast-track the filling of HIV prevention medication. Having patients go directly to our pharmacists for their HIV prevention medication instead of multiple doctors' appointments saves weeks, if not months, of time. We don't want patients waiting to get on PrEP."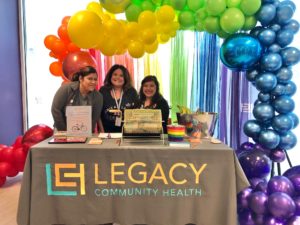 There are two key terms to know:
TasP: Treatment as Prevention. This is the practice of accessing treatment for HIV to prevent spreading to a sexual partner. This is used for those who are living with the virus already.
PrEP: Pre-exposure prophylaxis. As the name suggests, this is a daily course of medications that you take pre-exposure, meaning that you have not been exposed to HIV.
Medication that treats HIV is called antiretroviral therapy, or ART. If taken daily, ART can reduce the viral load to an undetectable level, which is called viral suppression—defined as having less than 20 copies of HIV per milliliter of blood.
Maintaining an undetectable viral load helps prevent transmission to others through sex and from mother to child during pregnancy. This process of taking ART, achieving undetectable status, and preventing the spread is referred to as treatment as prevention, as in, treating HIV to prevent the spread of the virus.
People who use PrEP must commit to taking the drug every day, and to seeing their health care provider (or one of our specially trained pharmacists when referred to PrEP Rx) for a follow-up every three months. Since PrEP does not protect against other STDs, it is further recommended that other means of safe sex be practiced, such as condoms.
With PrEP Rx, a patient can enter the clinic and bypass check-in, move directly to the pharmacy, and be tested for HIV. Upon a negative diagnosis, the patient receives counseling from one of our pharmacists about risk-reducing strategies and leaves with their medication. Should the test prove positive, the patient is immediately linked to a medical provider to begin the process of treatment with a goal of reducing the viral load to undetectable status. Both outcomes ensure that the chance of spreading the virus is minimal.
Know your status – prevention is key to ending HIV. Do your part and get tested with Legacy today. It's free. It's easy. To learn more, stop in Legacy Pharmacy Montrose at 1415 California St., Houston or call (713) 814-3300.